Hire Portable Eco Toilets and Urinals
We have a built reputation of excelling over other major companies due to our four core principles:
Clean – Included with every service we clean and replenish the consumables.
Fast – Same day Delivery to your site when stock is available.
Reliable – Provided with your dedicated Account Managers direct mobile to call and discuss any details regarding your account.
Professional – You can always count on us to deliver the highest standard of service possible, leaving you one less thing to worry about.
Eco Hire Toilets
All of our single event hire portable toilets and urinals are environmentally friendly eco loos. This is achieved by removing the wash basin and paper towels and replacing them with hospital grade anti-bacterial hand sanitiser. We have found this dramatically reduces water consumption, leading to fewer replenishments whilst offering a cleaner experience for the users. It ultimately reduces the cost of your hire, so it's good for the environment and cheaper too.
Single unit portable loos are the most popular choice for smaller building sites and festivals or events as they can be positioned almost anywhere making them the ideal solution.
We also hire portable toilets for construction sites with wash basins. See here for more details.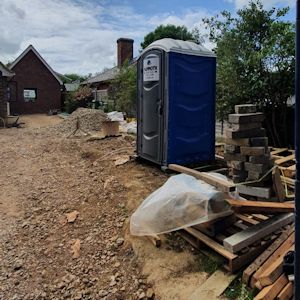 Portable toilets dimensions
Total Weight : 85 Kg (185 lbs approx)
Total Width : 1166 mm
Total Depth : 1215 mm
Total Height : 2316 mm
Door Height : 1975 mm
Door Width : 639 mm
Waste Tank Capacity : 225 litres
Large wash basin capacity : 65 litres
Not sure how many toilets you'll need?
Use our quick calculator to find out! If you want us to get in touch please give us your name and email address, and we will give you a free quote.
The 4 man urinal takes a small footprint compared to hire toilets, with dimensions of 1.3m wide x 1.1m tall x 1.3m long.
Hire Urinals
Urinals are one of the most popular choices for high traffic festivals and events as they have space for four people at any one time. They can be hired as a single unit or multiple units depending on the size of your event. They are the most cost effective solution to prevent queues at predominately male events. 
These portable urinals can be positioned almost anywhere, as they do not have to have access to running water or power. They are perfect for Festivals, Fetes, Charity events, anywhere with a large number of people.
We advise keeping the urinals stationed together, shielding them from public view with Heras fencing. These can be supplied by us with a covering or at events you can utilise this area with messages from your sponsors or local artwork. 
Multiple units can be stacked during transport, which cuts transport costs. These units are very easy to maintain, our waste removal service will have them emptied for you in a few minutes. Call our dedicated Hire Manager to discuss your needs in further details.
We offer a vast range of toilet facilities and welfare units to hire. From individual portable chemical toilets up to 26′ welfare units and everything in between.
Our Location
Mammoth Site Storage,
20-22 Richfield Avenue,
Reading,
Berkshire,
RG1 8EQ
0118 4023451
Alice McGuigan
Mammoth Site Storage are a great company- they provided us with portable toilets for a festival we did earlier in the year. The facilities were clean, well-functioning and lasted well throughout the whole day. Thank you all for being so efficient, accomdating to the venue requirements and for supporting this community event! Highly recommend. 🙂
S.Peacock
Excellent service from start to finish and well within all time budgets first mentions. Will recommend locally.
Zayyan F A
Mammoth Site Storage offered a seamless process to get our storage needs met! We had a last minute storage emergency and they were great at handling our excessive demands at such short notice! Highly recommend and great people too!
R.Hill
Exceptional service. They provided everything I needed and turned it around quicker than  I expected. I will definitely be using Mammoth again and will highly recommend to others.
Get In Touch
At Mammoth Site Storage we care about making your life easier through our variety of on site storage options. Contact us today to get a personalised estimate.
0118 4023451 and 07979 147868